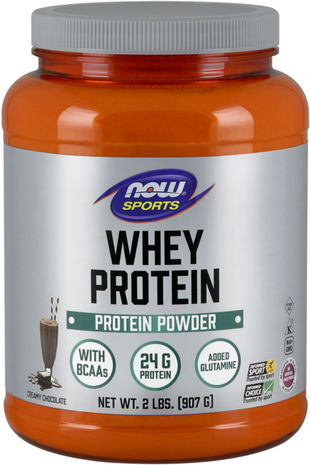 Protéines naturelles de lactosérum (chocolat), 2 lbs (907 g) Bouteille
List Price:
HTG G 3,605.87
Our Price:
HTG G 2,277.04
(37% déconnecté)
Informations relatives aux compléments
Taille de la portion :
1 Scoop (42 g)
Portions par contenance :
21
Quantité
par portion
% Daily
Valeur
(DV)
Calories
160
Calories from Fat
20
Total Fat
2 g
3%
Saturated Fat
1 g
5%
Trans Fat
0 g
Cholesterol
60 mg
20%
Total Carbohydrate
8 g
3%
Sodium
70 mg
3%
Potassium
300 mg
9%
Xyiltol
4 g
Sugars
2 g
Protein
24 g
48%
Calcium 20%
Iron 8%
TYPICAL AMINO ACID PROFILE
Essential Amino Acids mg Per 42 g Serving
L-Isoleucine 1458
L-Leucine 2873
L-Lysine 2226
L-Methionine 558
L-Phenylalanine 849
L-Threonine 1790
L-Tryptophan 458
L-Valine 1382
Non-Essential Amino Acids
L-Alanine 1895
L-Arginine 663
L-Aspartic Acid 2777
L-Cysteine 458
L-Glutamic Acid 4326
L-Glutamine 420
Glycine 492
L-Histidine 525
L-Proline 1353
L-Serine 1491
L-Tyrosine 861
Total 26,855 mg
Autres ingrédients:
Whey Protein Blend [Micro-Filtered Whey Protein Concentrate (providing ß-lactoglobulin, a-lactalbumin, Immunoglobulins, and Serum Albumin), Ion-Exchanged Whey Protein Isolate (providing ß-lactoglobulin, a-lactalbumin, Immunoglobulins, and Glycomacro Peptides) and Enzymatically Hydrolyzed Whey Protein Concentrate], Fructose, Cocoa, Natural Flavors, Free-Form L-Glutamine, Soy Lecithin, Xanthan Gum and Organic Stevia Extract (Stevia rebaudiana) (Leaf). Contains milk and soy derivatives.
Instructions:
Add 1 scoop (42 g) daily to 8 oz. of cold water or milk and blend. Also consider adding NOW® Flax Seed Oil for enhanced nutritional benefit. Please note the additional calories and nutrients provided by the above ingredients.
Autres informations:
Contains no: salt, yeast, wheat, egg, shellfish or preservatives.
Notice: Use this product as a food supplement only. Not intended as a meal replacement.
This product is sold by weight not volume. Store in a cool dry place. Please recycle.